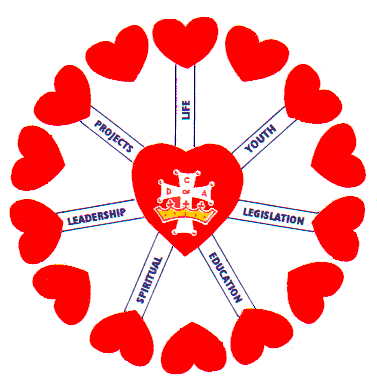 The image above is symbolic of our CIRCLE OF LOVE program. By definition, a circle is a curved line with every point equal distance from the point of the center and bound together by the common interest. The seven point program of the CIRCLE OF LOVE is bound together by the common interest- LOVE.
The small heart in the center is taken from the logo of the HEART SPEAKS TO HEART program. By utilizing this portion of the logo and part of the Heart Speaks to Heart program that is compatible with the Circle of Love, a smooth transition occurs.
The Cross and Crown in the center of the heart is the national symbol of the Order- the Catholic Daughters of the Americas.
The seven points selected indicate the needs of the Church and community best served by the Catholic Daughters. The program itemizes these needs with suggestions on how Catholic Daughters can effectively serve. Court Santa Sophia evaluates which programs to focus on in order to effectively serve the Church and community.
We are indeed very aware of the needs in society that are deeply affecting today's generation, the elderly, and human life. To be effective in promoting good works, we must reach out and make a difference in the lives of those who are suffering, whether it be through their own fault or the circumstances in which they find themselves. If we are to be "Jesus hands and feet" as is pledged in the Act of Consecration during the Installation Ceremony, then we must use the talents He gave us, become educated in new fields, volunteer our services and financial assistance where needed.
Circle of Love Programs:
LEADERSHIP
A leader should be an individual "who knows the way, goes the way and shows the way." One of the most effective ways to put our God-given abilities to use, is by developing leadership skills.
SPIRITUAL ENHANCEMENT
Spiritual enhancement encompasses numerous ministries. It involves personal sanctification and helps us to develop programs that provide the opportunity to participate in the religious and charitable ministries of the church.
QUALITY OF LIFE (Social Awareness)
Quality of Life (Social Awareness) – issues of our national program are the heart of our ministering to the needs of all peoples. We are called to reach out with compassion and support, to be helping hands where there is pain, poverty, sorrow and sickness.
YOUTH
Tomorrow's promise lives in today's youth for they will be the leaders, the citizens and the church of tomorrow. In responding to their needs today, we shape a better future for all. The Youth are an important part of our organization. We as Catholic Daughters need to nourish the spirit of the youth to ensure the continued growth of the Catholic Church and our organization.
EDUCATION
It has been said that education literally means "a drawing out" of a person's talent as well as "a putting in" of knowledge or instruction. Each year the local courts sponsor an education contest with the winning entries being submitted onto the state level. Those winning entries are then submitted for the national contest.


LEGISLATION/MORNING STAR
Our obligation is to become better informed on public issues, addressing the morals and human dimension, while supporting church teaching on human life, human rights, justice and peace.The Catholic Daughters of the Americas DO NOT ENDORSE CANDIDATES NOR ANY POLITICAL PARTY!

Operation Morning is a program of the Catholic Daughters of the Americas to Our Lady under her title Morning Star, to encourage Catholic women to speak out in the legislative arena.

NATIONAL CHARITABLE PROJECTS
The Five National Projects are:
• Disaster Relief
• Habitat for Humanity
• Holy Cross Family Ministries
• Smile Train
• Support Our Aging Religious (S.O.A.R.)