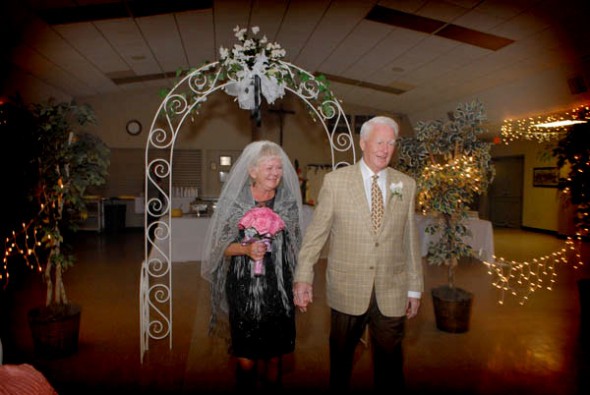 On February 13th, 2010, the Catholic Daughters teamed up with the Knights of Columbus to put on their 2nd Annual "Wedding Celebration." Guests were treated to a night of mingling, dinner, and dancing just as they would at a wedding reception – complete with a surprise bride and groom!
The bride and groom (a married couple) were chosen at random from a bucket of entries. The lucky couple, John and Sue Campion, won a 2-night stay at Barona Valley Ranch and Casino with dinner for 2 at their Italian restaurant. They selected Van and Rita Fritzenkotter and John and Georgene Kruzel to be at their side as their wedding party.
The Columbian Squires assisted in clearing plates from the table and the Catholic Daughters clean-up crew consisted of Melinda Bauers, Claire Rerucha Lake, Lou Turner, Chris Murphy and Dee Sanford.
The evening would not be complete without the DJ and Masters of Ceremonies, Thom Hiatt, who kept the night going, announcing the wedding party, giving away door prizes, and making sure that events happened on time.