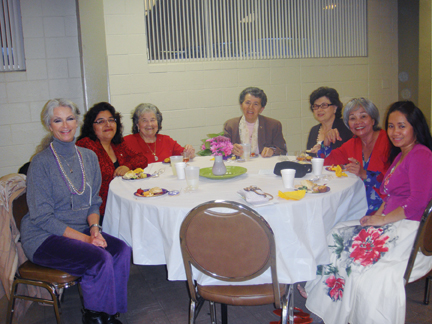 Rosemary Dobbs (far left), Regent, from Court Our Lady of the Holy Spirit
ON APRIL 21, three San Diego courts participated in the CDA's New Member Reception. Court Santa Sophia hostedthe event, under the coordination of Pam Kay and her team of helpers.
To start the evening, Fr. Peter McGuine led us in celebrationwith a special mass. During the mass, our District Deputies led new members with their pledge and explained the robesof the officers. Court Santa Sophia's members served as thesacristan, lector, eucharistic ministers and instrumentalist.
A wine reception followed immediately after the mass. Delicious sandwiches and various appetizers were provided by our members. CDA members and their families were able to socialize with friends and new faces. Thank you to all who have helped with this event! Your contributions helped to welcome our new members in a special way!