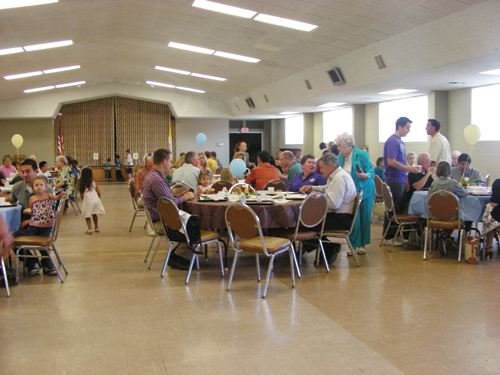 FATHER'S DAY – Since 2006, it has been Court Santa Sophia's tradition to honor fathers on Father's Day with a special brunch. This year, under the coordination of Maria Elena Grimm, the CDA served a delicious brunch of scrambled eggs with vegetables, potatoes with chorizo,beans, tortillas, fresh fruit and Mimosas. Every father received a free brunch and a special hand-decorated sugar cookie. Prendergast Hall was transformed by Linda Lopez, who decorated tables with fresh flowers, balloons and blue and brown table covers with a darling polka-dot overlay.
We served 106 meals total which included 47 free meals. Our gross income was $359. Dads usually take a back-seat when it comes to being celebrated. Our intention was not to have a huge fundraiser but a gesture of appreciation to all the men who supported us as husbands and fathers.
"You ladies really know how to cook!" "Wow, this is really nice." "Can I have seconds?" were among many of the gracious comments expressed by brunch-goers. If it is true that a way to a man's heart is through his stomach, we surely accomplished it!