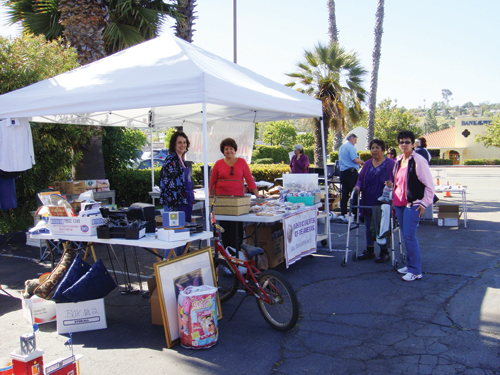 MAY 1, 2010 – It was a cool morning when Melissa Hiatt, Dee Sanford and Claire Lake arrived to set up an empty parking lot next to the Cathechetical Ministry Building at Santa Sophia. Little did they know that things would heat up—not just temperature-wise, but with a steady crowd and a lot of wheelin' and dealin'!
The stars were aligned for Court Santa Sophia's first-ever "Junk From Your Trunk" Sale. Prior to the event, sixteen vendors reserved a parking space through an online sign-up form. With permission from the church and the CDA, an e-waste collection at the main parking lot was also scheduled to coincide with our event. Flyers for the e-waste event that mentioned our rummage sale were distributed throughout the Spring Valley community. Our sale was also advertised on Craigslist, the Reader and in church flyers.
The CMO parking lot was bustling with not only people who came specifically for the sale, but from people dropping off their e-waste and those who came to participate the soccer game at the adjacent soccer field.
Court Santa Sophia set up a tent to sell drinks, chips and baked treats and sold rummage sale items donated by a few of our members. The help from Catholic Daughters was very much appreciated and it was a great fundraiser that was fairly easy to manage!
Vendors commented that they would like to see us do this event more than once a year—and we couldn't agree more! Our proceeds were $497.30, which will go towards the expenses to send an additional delegate to the National Convention.